Teachers Lounge Demo
Simply click the Teacher's Lounge button in the top right corner of the website and enter the login details below to access the Demo Teacher's Lounge.
username

demo@binnacletraining.com.au

password

binnacledemo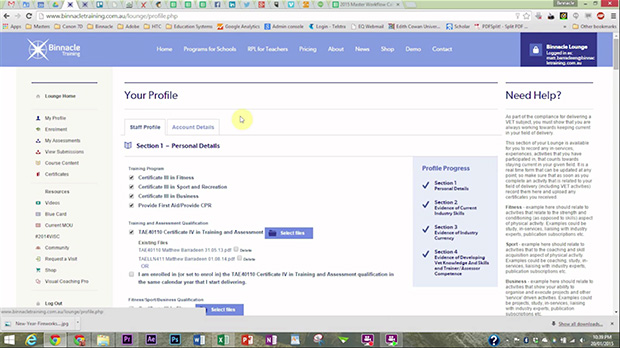 Please see above for the username and password to give you full 'demonstration' access to Binnacle's Teacher's Lounge – a secure, online area which allows full interaction, in both directions, between Binnacle and our Teachers/Program Managers within our 200+ partner schools. Each teacher has individualised password access. Just some of the features provided include:
Student Enrolment

Each program deliverer is provided with a unique link for the online enrolment of their class students, specific to the program/s they are delivering (e.g. Certificate III in Business, First Aid etc)

Submit Results

Where teachers submit class assessment, plus their evidence when completing one or more of our Teacher Accelerated Certificate III programs.

Course Content

A demonstration kit will be provided for you to view the program files (admin, assessment and training resources) related to each of 4 major programs for schools: Business (Cert III), First Aid, Fitness (Cert III) and Sport (Cert III).
Video

Specific to each of our 4 major programs.

Status Report

A real-time progress report specific to each Binnacle program that the teacher is delivering.

Certificates

Where teachers download their digital certificates for each of their participants at program completion.

Shop

Where teachers can order First Aid equipment at discount prices, Binnacle shirts for their students, and Visual CoachingPro site licence at heavily discounted prices, exclusive to Binnacle teachers.

...and much more!